It may be too late to talk about this for you and your current band. Chances are if you've played out in public, you've got a name. I hope you took the time to research and think about the name before you actually used it.
It's important. It's how people will know you. If your band breaks through, it's a name that will follow you the rest of your life. So, I thought I'd give you three "Dos" and three "Don'ts" to think about when coming up with your bands name.
DO - Research the name to see if there's another band by that name.
There used to be two Slayers. The
Slayer
we all know well, that was formed in 1981… and one from San Antonio, Texas that was formed in 1982. I never heard the San Antonio one, but I'll bet that really put a hurt on their style… because they had to bill themselves as "
S.A. Slayer
."
DO - See if you have a good Website Name.
Here's something that bands before the 1990s ago didn't have to worry about. When choosing a name for your band, check to see if you can buy the Website domain of the same name. Make sure you don't have to put the word "music," "band," "online," or "rock" after your name. When people look you up, you want them to be able to find you as easy as possible. They shouldn't have to guess and your band's name shouldn't direct them to a convenience store in Coldwater, Michigan… or worse.. to another band.
DO - Make your name easy to spell
Quick… without looking at this screen, spell
Evanescence
. How about
Okkervil River
? You can't… can you? Do you think ANYONE can? Now, that hasn't exactly been keeping them from making it big, but do you really need an extra problem?
DON'T - Pick a name based on current news.
If you choose to be funny, make sure it'll last. Don't base your name on a joke, unless it has staying power, or is an iconic name. You know… like Mufreesboro, TN's
Tony Danza Tap Dance Extravaganza
(saw them at
Emo's
last year). You've got to know that In a few years the Irish band named "
I Got Shot By Dick Cheney
" is going to have no people recalling the reference.
DON'T - Get sued for Copyright Infringement.
Did you know that
Green Jellÿ
used to be Green Jellö? Seems "Jello" took exception to the name. The band Chicago was originally "Chicago Transit Authority" before they were threatened with legal action. Do yourself a favor, don't name your band after a product or group.
DON'T - Use the auto Band Name Generator or pick a random word in the dictionary.
Your band name should have SOME meaning to you. If it doesn't, you better come up with one because reporters will ask… and I don't think "aw.. I just threw open Webster's Dictionary" (Evanescence actually did this) is a sound bite you want as part of your band's history. And the Band Name generator. It's a fun game, but if you're serious… leave that to the laughs when you get "Phat Crayon" and "Meaning of Stool" (I actually got those from
http://www.bandnamemaker.com/
) to twitter posts about band name generators.
--
Actually, if you've been reading this column all the way through, you may have noticed I made up a band name for an example. The name I came up with is "Dog Faced Cow." It's a little funny, the URL is available, and easy to remember. My wife called me this a few times (I think it was as a substitute for "you bastard"). Love you darling.
Of course, you could throw all of these suggestions away and just use your last name. Nobody can fault you for that.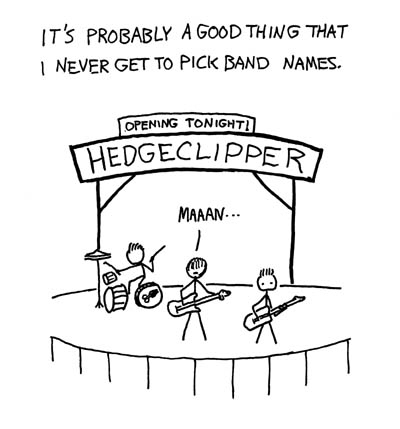 From xkcd
Sean Claes is the owner of Austin's INsite Magazine and has been a freelance entertainment writer since 1996. For an introduction to his "52 Weeks of DIY Music Advice" visit this link -

http://www.tinyurl.com/Claes52DIY

. If you like what you read... please share. To visit Claes' homepage, go here -

http://www.seanclaes.com/

.