LOSS RAYNE TO RELEASE DEBUT WITH WEEK-LONG PARTY
AUSTIN, TX - Austin-based rock-infused blues band Loss Rayne and Austin's A-Valve Studios are gearing up for a big week to release the band's debut album
Fragile Mind
on Enemy House Records.
The band will bring their music to KLBJ on Tuesday (10/10), Fox 7 News in the Morning on Friday (10/13), and Alligator Grill on Saturday (10/14).
Loss Rayne features the twin powers of Kasi Painter on the sultry powerful vocals and the humble yet brilliant Keenan LeVick on guitar. Patrick Durrett and John LeBas keep the rhythm down playing bass and drums, respectively.
First, the Loss Rayne foursome will be a featured guest on Loris Lowe's Local Licks Live on KLBJ (93.7FM). Previous to this, they were featured on October 2, 2006 on KVRX (91.7FM).
For those who like breakfast rock, Loss Rayne will be playing the Fox 7 News morning show on October 13. Virtual coffee and donuts are on us.
Finally, the band will be having their
Fragile Mind
CD release party at The Alligator Grill (3003 South Lamar, Austin, TX) with support of Brandon McHose (8:00p.m.) and Ryan Davis (9:00p.m.). Loss Rayne will hit the stage at 10:00p.m.
As an added bonus, the legendary Malford Milligan and his band will close out the night, playing at 11:45p.m. until evening's end.
A-Valve Studios, the studio where the band recorded
Fragile Mind
with Paul Zanetti, will co-host of the CD release show. The album was produced by Rob Hinton of 2222 Productions.
Details at a Glance:October 10:
10:00p.m. KLBJ (93.7FM)Local Licks with Loris Lowe (Radio)
October 13:
7:30a.m. FOX 7 News in the morning (TV)
October 14:
8:00p.m. - ?? CD Release Show at Alligator Grill ($10)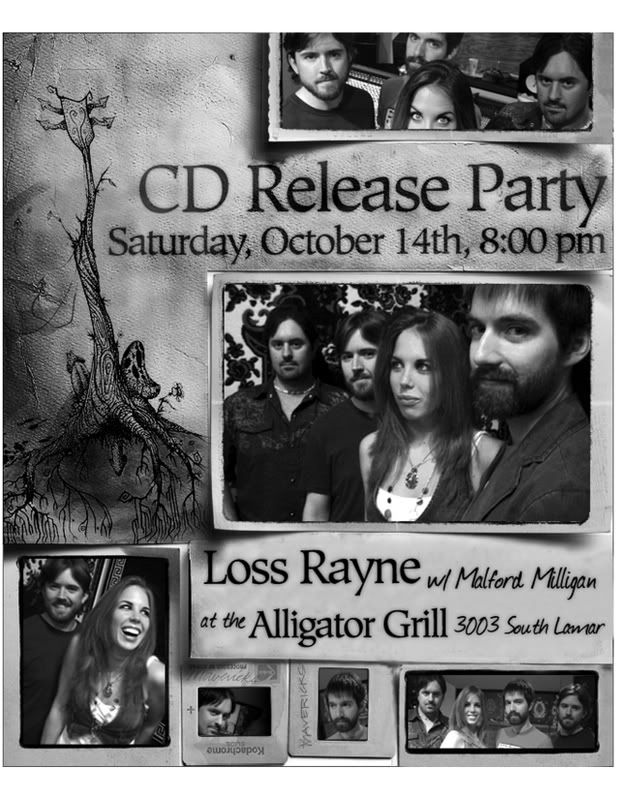 LOSS RAYNE • FRAGILE MIND
http://www.lossrayne.com • http://www.myspace.com/lossrayne